Gabions
Gabions is an element in the form of blocks made of wire mesh nettings of twisted hexagonal opening or welded square or rectangular openings, which is filled with natural stone for river, hill protection or construction.
Uses: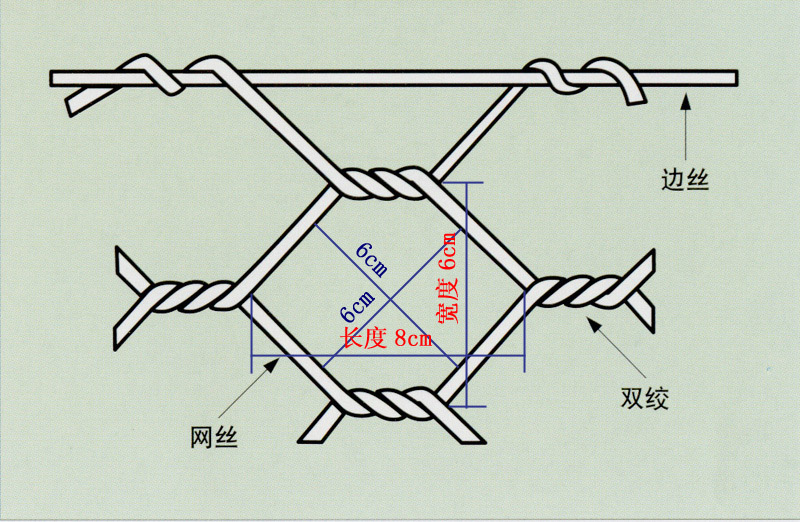 Strengthen the slopes
Gabion offers a unique way to protect against erosion and landslides.
Gabion retaining walls are used for their flexibility, robustness and high drainage capacity. The work of Gabion are considered to be a perfect solution in demanding geotechnical conditions, because you can easily assemble.
Roads and railways
Gabion is used where it is necessary to stabilize the road or rail. It is used primarily for the expansion or construction of roads on the slopes. Furthermore, in the construction of railway embankments, and so on.
Another option is the use of Gabion noise barriers, where the effect is compared with soundproof concrete improved by selecting suitable plants.
Rivers
Gabion baskets provides clear advantages in the management of watercourses. Gabion works better than the concrete lining, which destroys any connection between water flow and its surrounding areas and prevents the growth of plants.
spec. of wire mesh

max. twistable wire diameter

max. mesh width

mesh no

mesh size

galv.wire

pvc covered wire

-

2-1/2"

60x80 mm

BWG12 (2.80mm)

4.0mm

3200 mm

3"

80x100 mm

BWG11 (3.00mm)

4.0mm

4000 mm

4"

100x120mm

BWG11 (3.00mm)

4.0mm

4000 mm
Gabion Sizes:
| | |
| --- | --- |
| Mesh | Wire |
| 60*80 | 2.0mm-3.0mm |
| 80*100 | 2.2mm-3.5mm |
| 100*120 | 2.4mm-3.5mm |
| 120*150 | 2.7mm-4.0mm |
| | |
| --- | --- |
| Mesh | PVC Wire: Inside/Outside |
| 60*80 | 2.0mm/3.0mm-2.8mm/3.8mm |
| 80*100 | 2.2mm/3.2mm-3.0mm/4.0mm |
| 100*120 | 2.4mm/3.4mm-3.2mm/4.2mm |
| 120*150 | 2.7mm/3.7mm-3.5mm/4.5mm |
Gabion Box Sizes:
This Gabion Wall has been designed and constructed to retain the site boundary along the length of a new access road to a new industrial development. The gabions were filled with crushed concrete and faced with 6g stone fill.
Gabion walling is being used to construct an access track along the length of an existing train station. The access track will be used by a pilling rig that will be required to place new foundation when the existing station is demolished and the new railway station constructed. The gabion wall is constructed both sides of railway line and has to be constructed and backfilled in 4m lengths. This limits the chance of slipage to the embankment.