Green Coated Gabion Basket Boxes for Stone Loading River Bank Stabilization,
to ST. LUCIA, Trinidad & Tobago and West Indies.
Description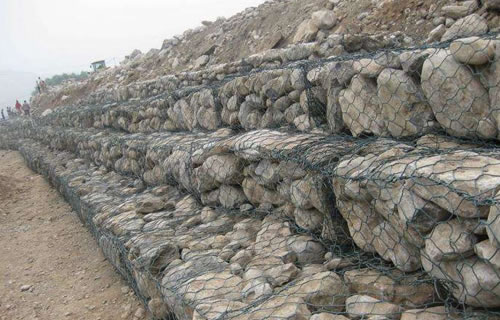 GABION BOX BASKET, specification:
2.7mm WIRE x 100 x 80 PVC coated galvanised wire mesh.
Basket size: 3.00m x 1.0m x 0.5m, 1.0m x 1.0m x 2.0m.
HDG Galvanized Iron Basket Gabions
Description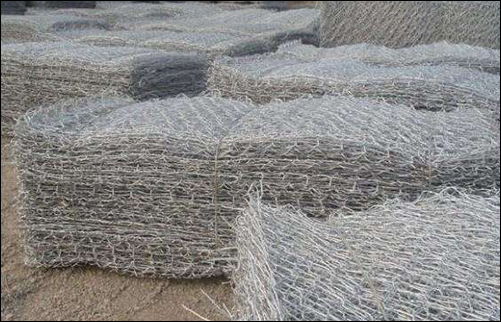 Basket size: 1 x 1 x 1m
3mm wire diameter
Finish: HDG Galvanized
Mesh type: Wire trebly twisted hexagonal mesh 10 x 12 cm
Structure: 4 side end and 1 center end.
Rock Gabion Baskets and Mattresses for project in Riverside, CA, USA
Description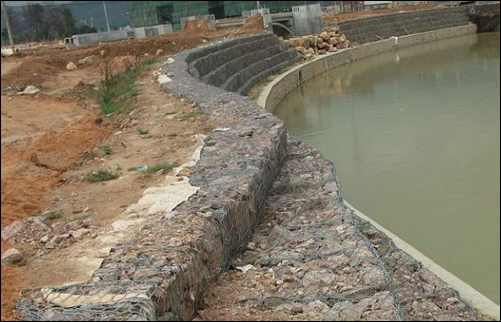 Gabions of basket galvanised 11 gauge, 3 feet (width) * 6 feet (length) * 3feet height
Gabion Basket Retaining Wall for Zabia Project
Description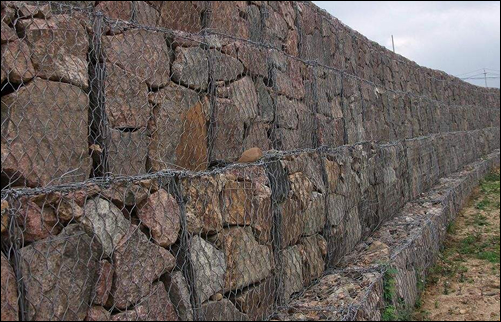 2.7mm diameter Class A galvanised 80x 100mm hexagonal woven gabion mesh baskets,
Cell size 3000x1000x1000mm high with a minimum density of 1,6 tons/m2 infilled with and including selected clean, hard, unweathered grey granite rock
With Non woven, needle punched polyster fabric geotextile with minimum 300mm side end laps placed under gabion structure and vertically at all soil interfaces including all over laping, cutting.
Twist Woven Mesh Basket Gabions for Coast Embankment Project
Description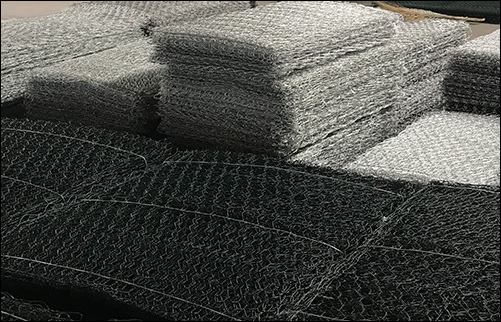 Gabion baskets of woven galvanized mesh, to US East coast,
100x200 cm and 100x50 cm,
Gabion Baskets, 6' x 3' x 3' 311 EA.
Gabion baskets of twisted galvanized steel wire forming a uniform hexagonal pattern with non-raveling double twists. Wire shall be a nominal-sized 0.12 inch or greater diameter. The perimeter edges of the mesh for each panel shall be tied to a 0.15 inch or greater diameter selvedge wire, at least the same length as the body of the mesh, and from the same type of wire as the mesh. Baskets shall retain rock of a minimum dimension of four (4) inches.
All wire shall conform to ASTM A 641, class 3, and shall have a minimum tensile strength of 60, 000 psi.
Gabion Basket and Filter Fabric to America
Description
Gabion Basket, Dimensions: 3ft. X 3ft. X 3ft. - Gabion, Preassembled, 12 Gauge, Galvanized Coating
Gabion Basket, Dimensions: 6ft. X 3ft. X 1ft. - Gabion, Preassembled, 12 Gauge, Galvanized Coating
Filter Fabric, C-46 NW, 12.5 ft. X 360 ft.
Jamaica Project
Description
Galvanized gabion baskets 2mx1mx1m ( double twisted 8x10 wire mesh, fitted with diaphragms, nominal diameter of wire used in the fabrication of the netting 3.01mm)
Coils # 5 (5.59 mm) gauge galvanized wire
Coils # 8 (4.19mm) gauge galvanized wire
Coils #10 (3.4mm) gauge galvanized wire

The technical specification as follows:
Variety: Heavily Galvanized Hot Dip Iron Wire
Wire Diameter:5.59 mm (#5 gauge),4.19 mm (#8 gauge),3.4 mm (#10 gauge)
Tensile strength: 55 kg/mm2 (BS 1052)
Elongation: not greater than 12%
Tolerance: Comply to ASTM A-641-98
Zinc coating: Heavily galvanized (BS 443-82)
Packing: 50kg coils
Gabion Basket to Saudi Arabia
Description
Gabion basket (2x1x1meter)
Gabion Basket (1x1x1meter)
Specification :
Mesh size -80X100mm
Mesh Wire -3mm double twisted
Selvega wire - 3.9mm
Lacing wire - 2.4mm
Fastener - 3mm

Hex Mesh Gabion Basket, Zinc-aluminium / Galfan Galvanising + Vinyl Coating
Description
Vinyl coated baskets
For dams construction in south central Missouri
Size 3x3x6
Gavions of Baskets to Canada
Description
Typical size:
2' x 2' x 2' Gabion Baskets
1' x 1' x 1' Gabion Baskets
1' x 6' and 3' x 3' gabion galvanized baskets
Galvanized Gabion Basket for Mining Project
Description
Baskets Plastic Coated
9'x3'x3', twisted wire, pvc coated gabion baskets
Galvanized hexagonal gabion baskets (box)
Description
Size mesh: 80x100 and 80x120
Wire diam: 2.50 mm / 2.70mm
Pieces: 2x1x1 M / 3x1x1 M / 2x1x 0.50 M
to Brazil
Gabions for Land Retention
Description
2mx1mx1m gabion basket made with coated wire.
For Caribbean land retention
Gabbion baskets to Australia
Description
Gabbion baskets
2m x 1m x 1m
2m x 1m x 0.5m
Deliver to sydney, Australia landscape company
Basket Mattress Galvanized and PVC to USA
Description
6x8 Mesh type, 2.2mm wire diameterm, galvanized & PVC
Coating Mattress: Dimension 4m x2m x 0.17m baskets.
Square, 6'x3'x3', Gabion Basket
Gabion Baskets / Boxes
Description
UK market standard:
Gabion box or basket, for approximate 600 mm to 1.000 m high variable height retaining wall to support adjoining ground, with no imposed loads to be accommodated
Gabion to be placed on the external face of a failing brick retaining wall.
Fill to be 3 inch crusher run whin stone.
The section be formed into an external radius corner
Gabion mesh and geotextile supply for Mongolia
Description
Construction project for a freight railway from the coal mine in Mongolia to the national border.
Supply & delivery of Gabion Mesh and nonwoven geotextile to the project site, for slope protection work
Basket size: 2.0m x 1.0m x 1.0m.
Gabion baskets to Africa
Description
Gabion baskets without tails
Basket dimensions: Width = 1m, Height = 1m, Length = 2m.
Basket with attached lid and centre diaphragm.
Gabion Baskets with tails (3 m long tails).
Basket dimensions: Width = 1m, Height = 1m, Length = 2m.
Basket with attached lid and centre diaphragm.
Material Specification and Wire Properties
Baskets to be manufactured of galvanized hexagonal woven wire
Mesh Type 80 (double twist type mesh).
Wire OD = 2.7mm.
Mesh opening tolerance: -4 +10 mm.
Selvedge wire diameter: 3.4mm Tensile strength 350 – 575 N/mm²
Lacing wire diameter: 2.2mm Tensile strength 350 – 575 N/mm²
All wire to be galvanized
Quantity of zinc: Lacing wire - 245 g/m²
Mesh - 275 g/m²
Selvedge - 275 g/m²
Delivery to Tema Port, Ghana
Gabion Baskets for Civil Construction Project in Yemen
Description
The project needs to install the gabion baskets filled by dressed stones.
Depth 2.00m x Width 1.50m x Height 1.00m.
Net specification:
1. 50mmX50mm net opening with wire gauge 5mm
2. 80mmX80mm with wire gauge 6-8mm
The gabion baskets to fill about 10,000 Cubic Meter in above mentioned size.
Gabion Baskets, Gabion wire to Karachi-Pakistan
Description
Technical specifications:
Material: Hot dip galvanized Wire (>260g/ m2)
Gabion Size: 2*1*1 m
Mesh Size: 8*10cm(+16%, -4%)
Mesh Wire: 2.8mm (±0.05)
Selvedges: 3.8mm (±0.05)
Lacing wire: 2.2mm (±0.05)
Weight: 18.01KG/piece
Diaphragm:: 1*1m(one)
Gabion Baskets and Matresses

Projects of construction sector, buildings, highways, bridges, tunnels for the government and private sectors in the Republic of Yemen.
Description
Gabions and Mattress
Material: Low carbon steel
Using: Gabions and mattresses will revegetate overtime as the structure collects soil and the airborne or waterborne seeds of locally occurring lant life.
Size of the Gabions Basket
Remarks
Tolerance
Length (M)
Width (M)
Height (M)
Cubage
Width: 5%
Length: 5%
Height: 3%
2.00
3.00
4.00
2.00
3.00
4.00
1.00
1.50
2.00
3.00
4.00
1.00
1.00
1.00
1.00
1.00
1.00
1.00
1.00
1.00
1.00
1.00
0.30
0.30
0.30
0.50
0.50
0.50
1.00
1.00
1.00
1.00
1.00
0.60
0.90
1.20
1.00
1.5
2.00
1.00
1.50
2.00
3.00
4.00
Gabions Supply to Italy
Description
Hot Dip Zinc Coated Gabions of Basket

Basket cell size:
1.5 m x 1m x 1m
2 m x 1m x 1m
2 m x 1m x 0.50m
3 m x 1m x 1m
Mesh 80 x 100mm
Wire 2.7/3.4 mm
Zinc coating 245/260 gr
Gabions Galfan of Basket Cells
Description
Basket cell size:
1.5 m x 1m x 1m
2 m x 1m x 1m
2 m x 1m x 0.50m
3 m x 1m x 1m
Mesh 80 x 100mm
Wire 2.7/3.4 mm
Zinc coating 245/260 gr
Gabions Galfan + PVC
Basket unit size: 2m x 1m x 1m
Mesh 80 x 100mm
Wire 2.7mm Galfan and PVC Gray
Gabion Baskets with internal diaphragms, to Jordan
Length
( m )
Width
( m )
Height
( m )
Mesh size
( cm )
Wire diameter ( mm )
Total weight of gabion basket with internal diaphragms
( kg )
2
1
1
8x10
2.7
17
2
1
0.5
8x10
2.7
12
1
1
1
8x10
2.7
10
Description
Galvanized Gabion Baskets Double-Twisted
The gabion basket should be galvanized , double twist , hexagonal or square mesh , manufacturing according BS443, 1982 standards
The weight of gabion basket in the above table includes the weight of the basket & the internal diaphragms and excludes the tieing wire weight.
Supplying galvanized tieing wires having 2.4 diameter, in rolls of 25 kg per roll.
Gabion Basket Supply with Non-Woven Geotextiles for Canal Construction Work
Description
Technical details refering: Gabions And Geotextile Design And Installation
Material deliver to Brazil
Description
Cellular Containment System - 3,40m X 2,90m
Non-Woven Geotextiles - 4,60m X 2,00m
MESH SYSTEM
Zinc-aluminium galvanising and PVC - double twisted wire mesh - 08X10 type - 270m 1,00m X 1,00m X 6 CD
GABION BASKETS 8x10 type - h=1,00, zinc-aluminium galvanising ( galfan coated ) + polymer coated
GABION BASKETS 8x10 h=0,50m, zinc-aluminium galvanising ( galfan coated) + Polymer coating
Mesh Mattress - 6x8 type - e=0,30m, zinc-aluminium galvanising + Polymer coating