We supply geotextiles with gabions for draining and filter needs in most bank protection construction projects. Geo-textile fabrics normally have a thickness of 0.5 to 3.0 mm, in 4 - 9 m width and various length. As geosynthetic materials, the non woven geotextiles are mainly used in construction and engineering of channels, ponds, tunnel construction, water conservancy projects, aquaculture industry, as well as other filtering applications.
PP Geosynthetic for Soil Stabilization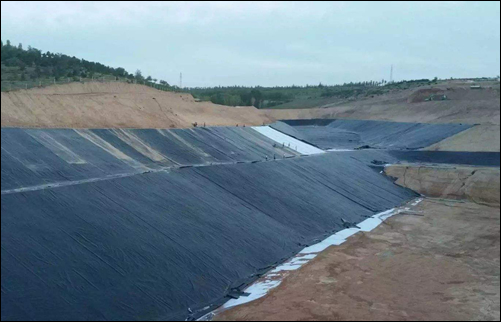 Water Proof Lining Cloth Fabric for Gabions Retaining Walls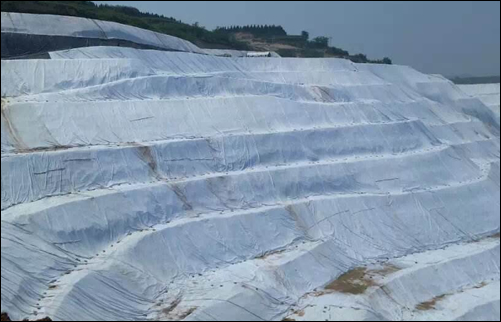 Water Proof Geo Textile Cloth for Construction

Projects

Geo-textile Fabric for Wire Mesh Gabions Work in Yemen Construction Project
In the project, GEOTEXTILE in a single layer of the granular material is available in the river bed after suitable sieving.
The geotextile fabric shall meet the requirements in the following Table: Copies of the manufacturer's test results, on the geotextile fabric, are provided with the materials.
| | | |
| --- | --- | --- |
| Properties | Unit | Average Roll Values |
| Weight | g/m2 | ≥200 |
| Tehsile Strength - longitudinal | kN/m | ≥12.5 |
| Tensile Strength - Transverse | kN/m | ≥12.5 |
| Elongation - longitudinal | % | ≥30 |
| Elongation - Transverse | % | ≥30 |
| CBR puncture resistance | N | ≥2250 |
| Effective opening size | mm | ≤0.07 |
| Permeability k | Lit/s/m2 | ≥45 |
| Roll size | m | ≥4.5 |
Gaviones and Geotextiles for Central Africa
Geotextiles are draining mesh fabrics for construction of gabions wall system.
We export to Central Africa 2.4mm and 2.7mm double twisted wire mesh Galvanized and PVC coated, together with geotextiles.
| | | | | | |
| --- | --- | --- | --- | --- | --- |
| Descripción de los Materiales | Medida mts | Malla | Alam Diam mm | Recub. | Cantidad Pzs / Un / Kg |
| gaviones caja | 1.5X1X1 | 8x10 | 2.70 | ZN+PVC | 125 |
| gaviones caja | 2X1X1 | 8x10 | 2.70 | ZN+PVC | 300 |
| gaviones caja | 3X1X1 | 8x10 | 2.70 | ZN+PVC | 100 |
| gaviones caja | 4X1X1 | 8x10 | 2.70 | ZN+PVC | 110 |
| Colchon | 4x2x0.30 | 8x10 | 2.70 | ZN+PVC | 110 |
Gabion Mattresses and Geo-textile for Irrigation Project in KENYA
The project including:
2xlxlm rock gabions to silting basin walls
2xlx0.5m rock gabion mattress
Supply of geotextile layer (filter cloth)

Gabions and Placing
Elongated shape shall be placed with their flatter and elongated faces in contact with the mesh wherever possible. The empty gabions shall be placed to line and level as shown on the Drawings or as directed by the Engineer and then stretched so that the gabions regain their shape on being filled.
Diaphragms shall be provided at not more than 1m intervals for baskets and not more than 0.6 m intervals for mattresses. A gabion shall not be completely filled until the adjacent basket or mattress has been half filled, unless otherwise directed, in order not to cause displacements from bulging during filling.
For baskets, at least two horizontal connection wires shall be tied between front and back of the gabion in each Im compartment, at a height of300 ram and 600 mm from the bottom as the stone fill reaches these levels. Additional tie wires shall be provided if necessary and in no case shall the gabion basket bulge by more than 40 mm. Where a continuous line of gabions is required, adjacent gabions shall be securely tied together at the top and bottom of the gabions with tying wire.
The gabions shall be filled to a level just sufficient to require the lid to be forced into place with a bar. The lid and all joints between baskets and between diaphragms and baskets shall each be tied down with a continuous running wire.
Where gabions are to be shaped, the shape shall be formed by folding the mesh internally and tying it with a continuous running wire.
All tying wire shall be galvanised and of same gauge as specified for the cages above.
Geotextile Cloth Materials Placing
Geotextile filter doth shall be made of non-woven polyester material with a minimum weight of 270 g/m2 and minimum thickness of 2.3mm.
The material shall be placed carefully on suitably cleared surfaces, such that tearing or piercing is avoided at all times.
Continuity at horizontal and vertical joins shall be achieved with a minimum overlap of 0.6m. Overlaps may be physically sealed using spot welds with an open flame aad subject to approval of the Engineer. On a horizontal join, the new layer shall be placed on the outside and backfilling shall proceed carefully to ensure that full contact of the join overlap is maintained. On a vertical join, the new layer shall be placed on the inside, and backfilling shall proceed such that contact is first on the outside layer, thereby sealing the inside layer to prevent soil migration between the overlap.
Graded Filters
The filter shall consist of well-graded natural or manufactured aggregate having the following gradation. The filter material should pass a 75mm for minimising particle segregation and bridging during placement. Also the filter must not have more than five per cent (5%) of material finer than that passing a 60 micron sieve to prevent movement of fines within the filter.
The graded filters shall consist of stone graded to. meet the requirements indicated below.
Class
Size of particles d(mm)
Percentage smaller than particle size
A
63
31
8
2
1.4
100
70-100
10-80
0-25
0

B
16
4
1
0.25
0.09
100
64-100
15-64
0-15
0
The filter shall be placed in layers and tamped into place in such a manner that mixing between layers or between the filter material and the formation to be protected, shall not occur. Care shall be taken to ensure that segregation of sizes does not occur. The minimum thickness of each filter layer shall be 250 mm.
Welded Galvanised Wire Mesh Gabion Containers with Geotextile
for Sudan Project
All materials are in accordance to international standards ASTM, BS, DIN etc.
Gabion Containers (depth x heigh) 0.61m x 0.61
Gabion Containers (depth x height) 1.0m x 1.0m
Including the below mentioned geotextile
SPECIFICATIONS
Mesh opening size 76mm x 76 mm
Mesh wire diameter 4mm minimum
Coils and pins to be manufactured from 4mm minimum galvanised hard steel wire
Geotextile to be 2mm minimum heavy duty non woven polypropelene
Non Woven PP / PET Geotextile Standard Specification
We supply geo fabric according to international standard, also custom specifications.
Item
Index
Thickness mm
0.75
1.00s
1.25
1.50
2.00s
2.50
3.00s
Density g/cm
≥0.940
Tensile yield strength (longitudinal and transverse) N/mm
≥11
≥15
≥18
≥22
≥29
≥37
≥44
Tensile strength at break (longitudinal and transverse) N/mm
≥20
≥27
≥33
≥40
≥53
≥67
≥80
Yield elongation (longitudinal and transverse) %
≥12
Elongation at break (longitudinal and transverse) %
≥700
Right angle tear load (longitudinal and transverse) N
≥93
≥125
≥160
≥190
≥250
≥315
≥375
Anti puncture strengthN
≥240
≥320
≥400
≥480
≥640
≥800
≥960
Tensile load stress cracking ( Incision constant load extension method)
300s
Carbon black content%
2.0~3.0s
Carbon black dispersion
In 10 dates, level 3 shall no more than 1, level 4 and level 5 is not allowed
Oxidation induction time (OIT) min
Oxidation induction time under normal pressure ≥ 100
Oxidation induction time under high pressure ≥ 400s
85°C heat aging (OIT Rretention rate after 90 days under
normal pressure) %
≥55
Anti-UV (OIT Rretention rate after 1600h Ultraviolet
radiation)
≥50
Note: If the thickness specification not listed in the table, its technical index shall be according to interpolation method
You can choose each one to test of OIT Rretention rate under normal pressure or high pressure of No.11 and 13 listed in the table
Packing and Storage
During all periods of shipment, land transportation and storage, the geotextile fabric shall be protected from direct sunlight, ultra violet rays and temperatures greater than 60°C. The fabric shall be maintained wrapped in its protective covering.
Packing Illustration: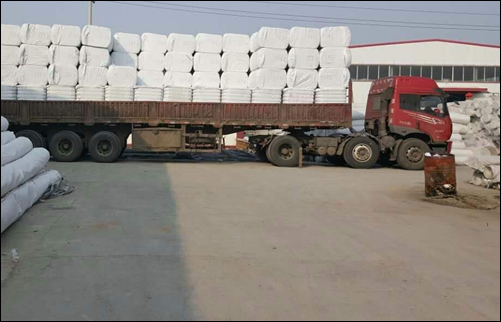 Proper Placing and Using of Geo-textiles
The geotextiles shall have NO defects, tears, punctures, deterioration, or damage during manufacture, transportation, or storage.
Torn or punctured sections of fabric may be repaired by placing a patch of the same geotextile fabric over the damaged area prior to placing the rock under layer. The patch shall be large enough to overlap a minimum of 1000mm in all directions and shall be stitched up at the edges.
The prepared area shall be checked prior to placing the geotextile fabric. Fabric may not be placed thereon without the approval of the professional engineer.
Geotextile fabric shall be placed manually and ballasted with due care.