We supply good quality powder coated gabions at internationally competitive prices to USA, Russia, Algeria, India, Georgian, Dubai and many countries.
Gabions Corrosion Resisting Finish: PVC-coating after zinc coat galvanizing
GI + PVC Stone Gabions, For Flood Control in Algeria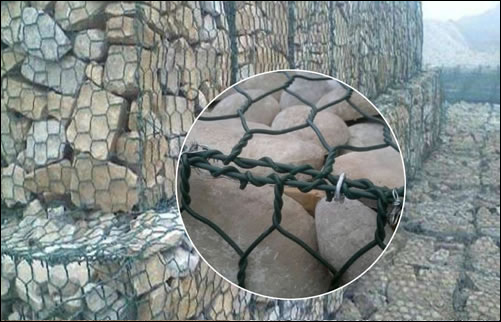 Description: Gabion ( Hexagonal wire netting )
Galvanized wire inside ( hot deep) / Plastified (PVC, green color ) outside against UV rays
Diameters 2.2 / 3.2 mm
Mesh size 60 * 80 mm
Height 2000 mm, Length 25 m
CFR ALGIERS, ALGERIA.
Plastic coated woven mesh gabions, for River Training Works in India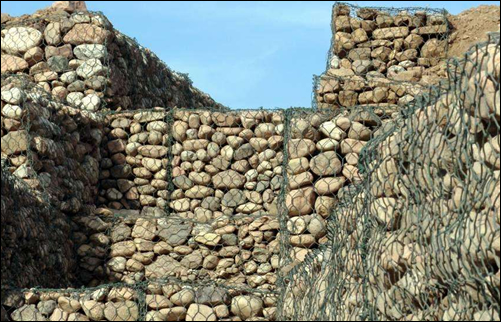 Description: Gabions vinyl powder coated ( dark green coating colour )
Gabion size 2x1x1m, mesh 60 x 80mm, mesh wire 2.5mm
Gabions, pvc painted and galvanized, Exported to Georgia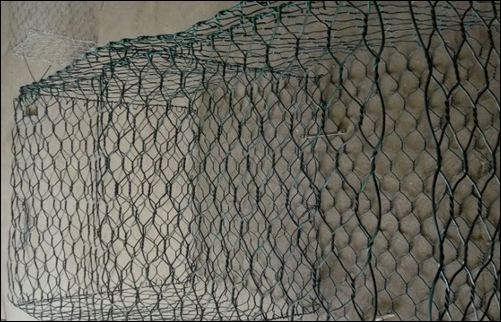 Description: Size 1mx1mx2m, Type of Mesh - 6x8
Mesh Wire - 2.2/3.2
Painting color: green
PVC Coated Gabions, GREY COLOR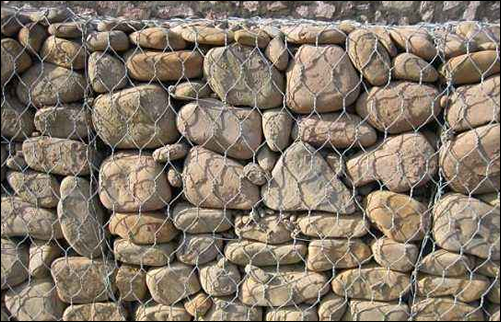 PVC Coated Gabions, painted in grey colour, exported to Russia market
Description:

Grey PVC
Gabion Size
3х2х0.5
3х2х0.3
2х1х0.5
1,5х1х0.5
Mesh
Wire 2.2 mm
Diaphragm
2
2
1
1
Core Wire Diam. (mm) 2.7
Selvedge Wire Diam. (mm) 3.4
Colour: GREY
Wire Specifications
Material: Thermally treated galvanized wire
Wire quality: No fracturing or breakaway of the wire.
| | | | | |
| --- | --- | --- | --- | --- |
| Nominal diameter of ready wire (mm) | Diameter limit deviation, in mm | Time resistance N/mm2 | Relative elongation, %, min. | Zinc coating density, g/m2, min. |
| 2.7 | ±0.08 | 350-500 | 12 | 260 |
| 3.4 | ±0.10 | 350-500 | 12 | 275 |
Modular Galvanized & PVC Coated Gabions System with technical quality standards
Standard quality of Zinc plus PVC coated gabions, with that export for Georgian project as reference example.
GALVANIZED and PVC COATED GABIONS for Georgian Project
Gabions baskets made of double twisted steel woven wire mesh, as per ASTM A975-97. Gabions are filled with stones at the project site to form flexible, permeable, monolithic structures such as retaining walls, channel linings, and weirs for erosion control projects.
The steel wire used in the manufacture of the gabion is heavily zinc coated soft temper steel. A PVC coating is then applied to provide added protection for use in polluted environments where soils or water are acidic: in salt or fresh water, or wherever the risk of corrosion is present. The PVC coating nominal thickness is 0.50 mm.
The gabion is divided into cells by means of diaphragms positioned at approximately 1m centers. In order to reinforce the structure, all mesh panel edges are selvedged with a wire having a greater diameter (Table 3). Dimensions and sizes of PVC coated gabions are shown in Table 1.
The material is supplied from an ISO 9001 certified factory.
Wire
Tests on wire for the manufacture of gabions are made prior to manufacturing of gabion mesh.
Tensile strength of the wire used for the manufacture of gabions ranges between 350-500 MPa according to EN 10223-3. Wire tolerances meeting EN10223-3.
Elongation not less than 10%, meeting with EN10223-3.
Zinc coatings meet EN10244-2 Class A.
Adhesion of the zinc coating to the wire shall meet ASTM A641-97 standard, zinc coating shall not flake or crack when rubbing it with the bare fingers, when the wire is wrapped six turns around a mandrel having four times the diameter of the wire.
P.V.C. (Polyvinyl Chloride) Coating
The technical characteristics and the resistance of the PVC to ageing meet the relevant standards. The main values for the PVC material are as follows:
Specific gravity: 1.30-1.35 kg/dm 3 in accordance with ASTM D792 Table 1;
Hardness: between 50 and 60 Shore D, according to ASTM D 2240 –91;
Tensile strength: not less than 20.6 MPa, according to ASTM D412-92;
Modulus of elasticity: not less than 18.6 MPa, in accordance with ASTM D412-92;
Abrasion resistance: the percentage of the weight loss shall be less than 12%, according to ASTM D1242-92.
Creeping corrosion: max. penetration of corrosion of the wire from a square cut end shall be 1 in. (25 mm) when the specimen has been immersed for 2,000 hours in a 5% solution HCl (hydrochloric acid 12 Be).

Structure
The tolerance on the opening of mesh meeting ASTM A975-97

Mesh Spacing Tolerance
The accelerated ageing tests are:
Salt spray test: test period 3,000 hours, test method ASTM B117-94;
Exposure to UV rays: test period 3,000 hours at 145° F (63°C), test method ASTM D1499-92a and ASTM G23- 93 apparatus Type E;
Brittleness temperature: no higher than 15°F (- 9°C), or lower temperature when specified by the purchaser, when tested in accordance with ASTM D746.
The properties after ageing tests shall be as follows:
Appearance of coated mesh: no cracking, stripping or air bubbles, and no appreciable variation in color;
Specific Gravity: variations shall not exceed 6%;
Hardness: variations shall not exceed 10%;
Tensile strength: variations shall not exceed 25%;
Modulus of elasticity: variations shall not exceed 25%;
Abrasion resistance: variations shall not exceed 10%;
Brittleness temperature: shall not exceed + 64°F (+18°C).
Gabion Cell Sizes
L=Length (m)
W=Width (m)
H=Height (m)
# of cells
2
1
1
2
All sizes and dimensions are nominal.
Tolerances of ± 5 % of the width, height, and length of the gabions shall be permitted.
Standard Mesh-Wire
Type
D (mm)
Tolerance
Internal Wire
Dia (mm)
External Wire
Dia (mm)
Mesh
ZN+PVC
82
±10%
2.70
3.70
Standard Wire Diameters
Lacing Wire
Mesh Wire
Selvedge Wire
PVC Mesh Diameter mm
2.2/3.2
2.7/3.7
3.4/4.4
Wire Tolerance (±) mm
0.06
0.06
0.07
Minimum Quantity of Zinc gr/m2
230
245
265
Lacing Operations
Lacing operations can be made by using the tools.
C rings can be used instead of lacing wire.

Stitching of Gabion Sheets
Gabions Ring Sizes
When requesting a quote, please specify:
size of clip units (length x width x height),
type of mesh,
type of coating
Zn + PVC Coated Gabions of All Unit Types ( Cage, Baskets and Mattress )
Gabion Baskets
Description
Project in the USA
3'x3'x6' PVC coated gabion baskets.
PVC / Vinyl Coated Gabion Mattress
Description
Gabion mattress 2x2x0.3 / pvc / vinyl coated, exported to India
Gabion wire mesh ( PVC Coated) Rolls
Description
PVC Coated Gabion mesh: Size 3mm, 1 X 1 X 2
In rolls to DUBAI, UAE
PVC Coated Hexagonal wire mesh rolls and Gabion Box
Mesh and gabion box for road construction project
Description
PVC Coated galvanized Hexagonal wire mesh in Roll Form:
Hexagonal shape with opening size 80 * 100, mesh wire 2.77 id, 3.77 od, selvedge wire, lancing wire, all galvanized PVC Coated.
Supplied in (1.5 x 50 meter) Roll form
Gabion Box: Made out of Hexagonal shape with opening size 80 * 100, mesh wire 2.77 id, 3.77 od, selvedge wire, lancing wire, all galvanized PVC Coated.
Box Size:
1) 3 x 1.5 x 1 Meter
2) 2.25 x 1.5 x 1 Meter
3) 2 x 2 x 1 Meter
Galvanized Steel Hexagonal Gabion Baskets coated with plastic materials PVC for England
Description
Steel wire mesh for gabions shall consist of 100 x 125mm hexagonal mesh made with 2.7mm diameter PVC coated, galvanized high tensile steel wire. Gabion size 1 x 1 x 1m
| | | | |
| --- | --- | --- | --- |
| Mesh Size (mm) | Mesh Wire G.I (Galvanized Iron) +PVC | Selvedge wire G.I. +PVC | Tie Wire GI +PVC |
| 60 x 80 mm | 2.0 \ 3.0 mm | 2.5 \ 3.5 mm | 2.0 \ 3.0 mm |