Mattresses are wire mesh containers to be filled with rocks to form a solid lining system in various soil retaining projects. Gabion Mattress is jumbo size gabion form with increased panel length and width, compared with other forms like baskets, boxes, cages. It has comparatively less height to suit its mat application in large bank area. Mattress gabions are flexible bank protection system with base, sides and ends normally formed a single panel of mesh fabric. Mesh form for mattress box is woven wire hexagonal netting.
Why gabion mattresses?
Mattresses are uniformly partitioned, supplied in variable size;
Mesh mat can form flexible, permeable, monolithic structures easily;
Mattresses are relatively small in height in relation to the lateral dimension of a gabion basket;
Gabion mattresses are suitable for channel linings, revetments and weirs for earth retention.
Gabion Mattresses are usually used with geo draining fabric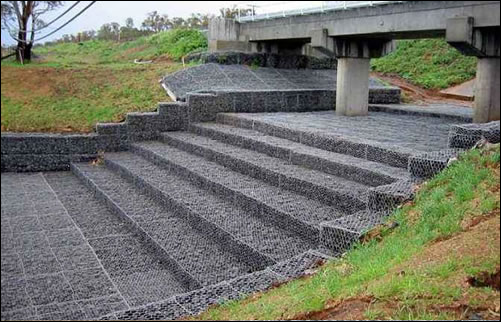 Description: Mattress size 3 x 2 x 0.3M, fabricated of mild steel wire mesh panel,
Geotextile (250g/m2 ).
Rock Mattresses - Size 6 x 2 x 0.3M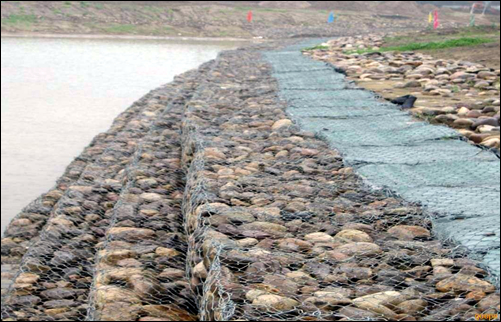 Rock Netting Mattress, to Bangkok, Thailand
Description :
Wire 2.2mm, Mesh size 6x8CM, supplied with Geotextile (200g/m2 )
Galfan Coated Mattresses, Size (Thick. x Width x Length): 0.3m x 2m x 3m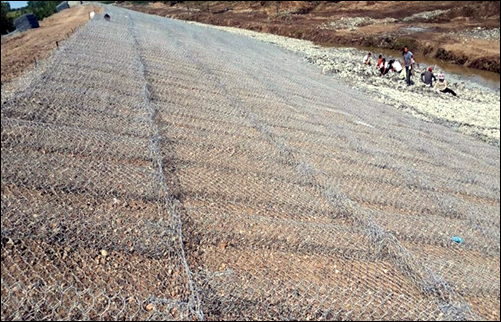 Mesh mat Description:
Galfan coated mesh wire with diaphragms and binding Wire
Mesh Size: 60 x 80 mm
Mesh Wire Galfan: 2.2 mm
Selvedge Wire Galfan: 2.7 mm
Ties Wire Galfan: 2.2 mm
Mesh form: Double torsion net fabric
PVC Coated Galvanized Mattress Gabions - Size 3.0 x 2.0 x 0.3 m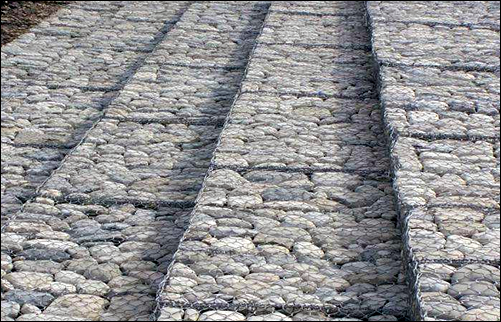 Mattresses made of triple twist hexagonal mesh fabric
Description
Mesh Opening : 60 mm x 80 mm
Mesh wire dia. : 2.7 mm / 3.7 mm
Selvedge wire dia. : 3.4 mm / 4.4 mm
Lacing wire dia : 2.2 mm / 3.2 mm (Free of charge 5% by weight of box only)
Diaphragms : At every 1.0 m
Tolerance : As per international Standards
Wires conform to BS 1052/1980 for tensile strength and BS443/1982 for hot dip galvanizing and coated with stabilized PVC.
Revet Mattress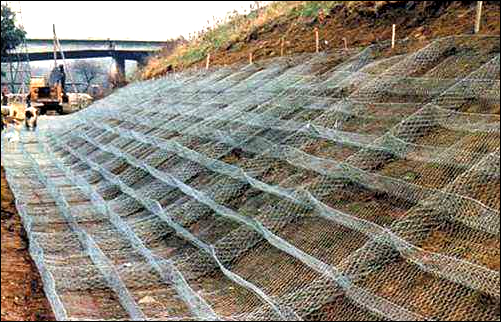 Revet Mattress with lid 9' x 6' x 9' 126 EA
Description
Revet mattresses of twisted galvanized steel wire forming a uniform hexagonal pattern with non-raveling double twists. Wire shall be a nominal-sized 0.086 inch or greater diameter. The perimeter edges of the mesh for each panel shall be tied to a 0.11 inch or greater diameter selvedge wire, at least the same length as the body of the mesh, and from the same type of wire as the mesh. Revet mattresses shall retain rock of a minimum dimension of three (3) inches. All wire shall conform to ASTM A 641, class 3, and shall have a minimum tensile strength of 60, 000 psi. Furnish sufficient lacing wire of nominal-sized 0.086 inch diameter, of the same type, strength, and coating as the basket and revet mesh to connect at least 50 % of the unit base perimeters and vertical corners.
Dimensions
Gabion Dimensions
Length
Width
High
2 m
1 m
1 m
1.5 m
1 m
1 m
3 m
1 m
1 m
4 m
1 m
1 m
5 m
1 m
1 m
3 m
1m
0.3 m
Marine Mattress
For Harbour Marine Project in USA
Description
Marine Mattress for jetty and entrance revetment and channel construction
Specific uses: Polymeric marine mattress to stabilize the entrance channel slopes
Specifications:
5x25x12"
5x15x12"
PVC Coated Gabion Box Mattress
Description
Gabions of woven netting made of mild steel wires.
Steel wire shall be heavily (at least 275g /m2) hot dip galvanized to BS 443 / 1982 & shall be quoted with 0.5mm thick ultraviolat stabilized PVC.
Size of basket wire - 2.7mm / 3.7mm
Size of selvedge wire - 3.4mm / 4.4mm
Size of tie wire - 2.2mm / 3.2mm (5% of gabion weight shall be provided)
Above wires shall be complied to BS 1052/1980 having tensile strength not less than 380N/mm2 & not exceeding 500N/m2
Size of mesh - 82mm x 122mm hexagonal

Size :
2m x 1.5m x 1m (PVC Coated Gabion Boxes)
2m x 2m x 1m (PVC Coated Gabion Boxes)
2m x 1m x 0.5m (PVC Coated Gabion Boxes)
Export to Columbia
Flexible Bank Protection Gabions of Double Twisted Wire Mesh Mattresses
Size
Mesh Type
Length (m)
Width (m)
6 * 8
5 * 7
Thickness (m)
Wire
Thickness (m)
Wire
3
2
0,17
0,23
0,30
Zinc Or Galfan coated Ø 2.2 mm
Galfan and Plastic coated wire
Ø int 2,2 mm
Ø ext 3,2 mm
0,15
Zinc or Galfan coated Ø 2,0 mm
Gabions and matresses for the coast protection
Project in Russia

Description
Mesh size:80*100mm,
Wire diameter:2.7mm, low carbon galvanzied wire
Lacing wire: 2.2mm (2% of Weight of Gabion)
Surface: Hot dipped Galvanzied,(240gram/m2)

Size:
2*1*1 m
3*1*1 m
3*2*0.17 m
5*2*0.17 m
5*2*0.30 m
6*2*0.17m
6*2*0.30 m
Rock Mattresses Export to UGANDA, East Africa.
Description
GABIONS, size:
GABION boxes, 2.0 x 1.0 x 1.0 meters
GABION boxes, 1.5 x 1.0 x 0.5 meters
GABION mattresses, 3.0 x 2.0 x 0.3 meters
Mattresses of Gabion Baskets - Size: 4x2x0.17 and 6x2x0.17
Description
Wire mesh details: Wire 2.7mm, Mesh 8x10CM
Jumbo Gabion Mattress
Description
Gabion Mattress size: 12' x 6' x 1.5'
Mesh 8 x 10cm
Riprap Linings design with gabion mattresses
For riprap linings, the ability to deliver the expected channel protection depends on the proper installation of the lining. Additional design considerations for gabion linings include consideration of the wire mesh; freeboard; proper specification of gradation and thickness; and use of a filter material under the gabions.
The design procedure for gabions riprap is as follows:
Step 1. Determine channel slope, channel shape, and design discharge.
Step 2. Select a trial mattress thickness and fill rock, based on available sizes for the project.
Step 3, Determine specific weight of proposed stone.
Step 4. Estimate the depth.