Hex mesh woven wire gabions in following finishes:
Hot-dipped galvanized;
Electro galvanized;
Hot-dipped galvanized then PVC / vinyl / polymer coated;
Galfan ( zinc aluminum galvanizing);
Galfan then pvc coated.
Comparing with gabions of welded mesh, twist woven mesh gabions offer flexible structures with less strength.
Gabions containers Made of Hot Dip Galvanized Woven Wire Mesh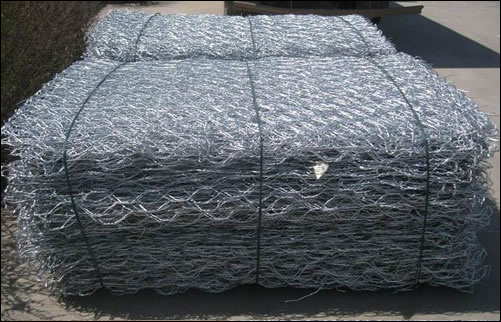 G.I. Wire mesh heavy galvanized conform to BS443 for Zinc coating and BS1052.
Mesh size: 80 x 100, mesh shape: hexagonal.
Technical Specifications for Mechanically Woven Double Twisted, Hexagonal Shaped, Zn + PVC Coated Steel Gabions and Gabion Mattress for River Training works
Zinc + PVC Coated Steel Mesh Gabians for River Training Work for India Project
Gabion Mesh Wire:
All tests on the mesh, lacing wire and selvedge wire are made prior to manufacturing the gabion mesh.
Tensile strength:
The wire used for the manufacture of Mesh shall have a tensile strength minimum 350 N/mm2 in accordance with EN 10223-3. Wire tolerances are in accordance with EN 10218 (Class Tl).
Elongation:
Elongation shall not be less than 10%, in accordance with EN 10223-3. Test must be carried out on a sample of at least 25 cm length.
Internal Connecting Wires (Cross Ties/ stiffener wire):
Diameter 2.2 mm, Zinc coated wire with PVC coating, 3.2mm when measured with PVC coating.
Zinc Coating
Zinc coating: Minimum quantities of Zinc shall meet the requirements of EN 10244-2
Adhesion of zinc coating: The adhesion of the zinc coating to the wire shall be such that, when the wire is wrapped six turns around
A mandrel having four times the diameter of the wire, it does not flake or crack when rubbing it with the bare fingers in accordance with EN 10244.
PVC (Polyvinyl Chloride) Coating (UV Stabilized)
PVC coating thickness: Nominal - 0.5 mm, Minimum - 0.38 mm
Specific weight: 1.3 kg/dm3 - 1.35 kg/dm3 in accordance with ISO 1183
Hardness: between 50 and 60 Shore D, according to ISO 868
Tensile strength: Higher than 21 MPa, according to ISO 527
Elongation at break: not less than 200% in accordance with ISO 527
Wire mesh (10x12 mesh as example):
Mesh type
"D"(mm)
Zinc +PVC coated
Diameter of wire (Inner / Outer wire)
Mesh wire(mm)
Selvedge wire (mm)
Lacing wire(mm)
10X12
100mm
2.7/3.7
3.4/4.4
2.2/3.2
Mesh opening: Nominal Dimension D = 100
Tolerances in Mesh Opening size: - 4% to +16%

Tolerances
Wire: wire diameter tolerance and minimum zinc coating requirement shall be as per following table
| | | | |
| --- | --- | --- | --- |
| Wire Diameter mm | 2.2 mm | 2.7 mm | 3.4 mm |
| Wire Tolerance (+) mm | 0.06 | 0.06 | 0.07 |
| Minimum Qty of Zinc (gm/m2) | 230 | 245 | 265 |
Hex Gabion Sizes
Standard sizes (Length x Breadth x Height) for woven wire gabions basket and mattresses of 10x12 mesh type:
4m x 1m x 1m
3m x 1m x 1m
2m x 1m x 1m
1.5m x 1m x 1m
4m x 1m x 0.5m
3m x 1m x.0.5
2m x 1m x 0.5m.
While standard sizes are mentioned, custom sizes can be provided considering the site conditions and practical aspects of placement and construction
Tolerance in gabion dimensions
+ 5% in all dimensions (length, breadth and height) shall be allowed as tolerance for Gabion units.