PP Geogrid is used with gabions for soil retaining and river bank protection gabion wall construction works. Geotextile fabrics and grids are all synthetic non-woven materials for gabions works: Geo textiles are used as drainage and filter cloth, geogrids are mainly used for reinforcing.
Geogrid is used to reinforce:
Dyke;
Roadbed;
Side slope;
Tunnel wall;
other reinforcing construction works.
Benefits:
1. Increase the bearing capacity of the roadbed and foundation and prolong their service life.
2. Prevent road surface and foundation from sinking or flawing, keep clean and beautiful ground surface.
3. Convenient construction saves time and labor, reduce mounting time and decrease maintenance expense.
4. Prevent culverts from flawing.
5. Enhance earth slope and prevent water loss and soil erosion.
6. Decrease underlayer thickness and save manufacturing cost.
7. Enhance the stability of side slope turf net patch to improve greening.
8. Replace wire netting used in mine as intermediate ceiling netting.
Gabions and geogrid used in India River Bank Soil Stablization Project
Mattress with Gabion filled with Hard Stones of 250-50mm nominal size
Gabion mattress size: 1.0m x 1.0m x 0.3m
Gabion wall size: 1.5m x 0.75m x 0.5m
Laying Geotextile grid over the prepared surface, the minimum lap length is 250mm.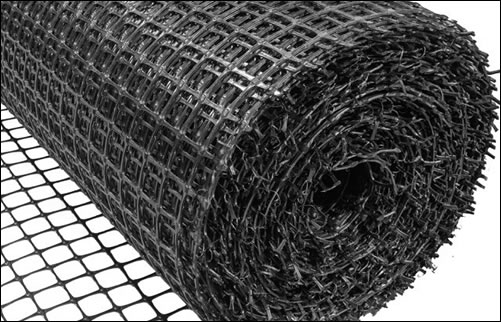 Biaxial Geogrid (20K N/M) Specification
Material: Polymer Biaxial oriented Polypropylene
Property
Unit
Test method
Value
Aperture size
MD (mm)
CD mm
Nominal
43.7
41.9
Ultimate tensile strength
MD kN/ mtr
CD kN/ mtr
ASTMD 6637
24.8
19.4
Strain at ultimate
MD%
CD%
ASTMD 6637
8.6
8
Tension at 2% Strain
MD kN/ mtr
CD kN/ mtr
ASTMD 6637
11.1
8.5
Tension at 5% Strain
MD kN/ mtr
CD kN/ mtr
ASTMD 6637
20.7
16
Junction Strength
MD kN/ mtr
CD kN/ mtr
GR 1-GG 2
26.0
19.9
Flexural rigidity
MD mg-cm
CD mg-cm
ASTMD 1388 (Modified)
509221
503875
Roll Width
M
Minimum
3.9
Roll Length
Mtr
Minimum
50
Gabion Retaining Wall Construction
Drawing: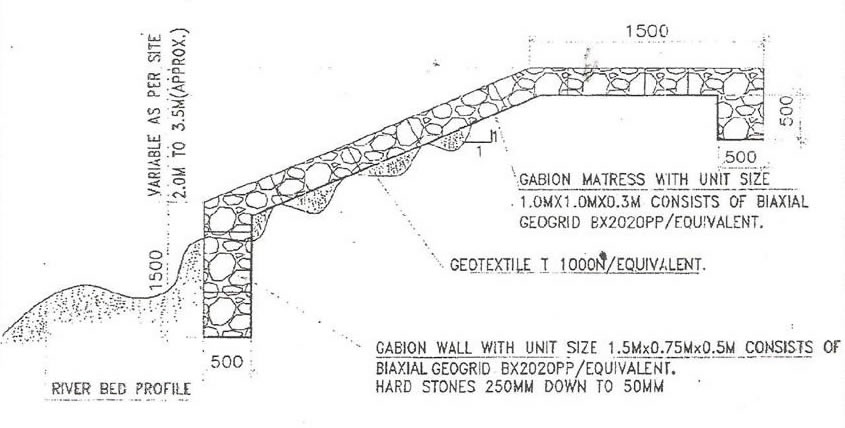 Notes:
All dimensions are in mm
Gabion wall made up of gabion mattress and biaxial geogrid BX2020 PP or equivalent.
Gabions are made with 250mm to 50mm norminal size hard stones.
Gabion units are tied with adjacent units.
Gabion wall to be constructed after making trench of minimum 1.0m deep below river bed.
Bank of river edge is cut to slope not steeper than as shown in drawing. Bottom of slope shall be compacted well. Slope may be made with available local soil. Constructed bank slope should have minimum 95% standard proctor density.
Gabions Work for Oild Field Project in Lybia ( Zinc coated gabions and non woven geo grid)
Gabions zinc coated, 3x1x1m, Mesh Type 6x8, wire diam. 2, 70 mm, with diaphragms
Gabions zinc coated, 1,5x1x1 m, Mesh type 6x8, wire diam. 2,70 mm
Gabions delivered with all needed components and materials for assembly ( lacing wire, stiffeners) ; lacing wire is zinc coated , diameter 2.2 mm
Nonwoven geotextile grid, length 120 m width 3 m
Tools for lacing operations
PP Geogrid for Project in France
Geogrid 100% PP, with anti-UV treatment
Grid thickness 20 mm
MD/TD: 43kN/m - 20kN/m
Reinforced with galvanised (+PVC) grid mesh size 80 mm
Geogrid for Mining Projects
The tensile strength of pp geogrid is higher than that of the diamond mesh used in mining.
Features:
High-strength material and the mesh joint is firm
Low extension: Low unit extension, average stress, and avoid the appearance of the tuck net effectively.
Light: Weigh about 1kg/m2, with less labor intensity, improved working efficiency, and simple installation.
Safety: Static resistant, inflaming retarding, avoid the appearance of the electric sparkle effectively.
Erosion resistance: PP and PE surface ensures long service life and no invalidation caused by the erosion.
Technical indexes of the Geogrid for mining
| | | | |
| --- | --- | --- | --- |
| Spec Item | Unit | Using for intermediate ceiling | Using for side protection net |
| Width | m | 1—3 | 1—3 |
| Mesh size | mm | 50±4 | 50±4 |
| Drawing force of the single mesh | ≥N | 4000 | 2000 |
| Tensile stretch of the single mesh | ≤% | 5 | 5 |
| Stripping force of the joint | ≥N | 50 | 50 |
| Resistance of the product's surface | <Ω | 1.0×109 | 1.0×109 |
| Fire out time | ≤S | 10 | 10 |